(Update: in 2015 I was made an Artistic Affiliate with American Blues Theatre Company and won a Jeff Award for sound design for Moby Dick at Lookingglass Theatre)
In 1992 I composed music for West, my musical debut in theatre, at the Lookingglass Theatre Company in Chicago, Illinois.
For the next several years the majority of my creative time was taken up by my pop rock band making records and going on world tours although, I was able to squeeze in time to compose music for several hilarious Lookingglass musicals along the way.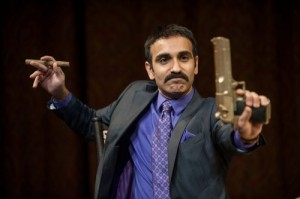 Bengal Tiger at the Baghdad Zoo
Theme From Bengal Tiger

Audio clip: Adobe Flash Player (version 9 or above) is required to play this audio clip. Download the latest version here. You also need to have JavaScript enabled in your browser.
In 2005, I took a assistant position with Andre Pluess and began devoting myself to a full time theatre sound design and composing career. Since 2005 I have composed music and designed sound for countless world premiers in Chicago and nationally. I am experienced in composing a wide variety of music. My composition styles include Latin, Cuban, Classical, ballads, Irish, Middle Eastern, Ambient, Hip Hop, and, of course, Rock.

Highlights of my rock career include forming my band Didjits, touring and recording with Fred Schneider of the B-52's, recording and playing Farm-Aid with Willie Nelson and writing a song for the Offspring record Smash which went on to sell more than 10 million copies.
I've feel I've developed a keen sense of how to successfully integrate sound design into a play in a way that compliments and lifts the piece in a global way. I believe that my pop rock background, along with the experience I've gained in theatre, has given me a unique perspective on how to make music work in the theatrical environment.